The State Children's Health Insurance Program provides uninsured children with medical coverage, regardless of their income level. In California, this program is called Healthy Families, and is open to residents age 18 and under who are not eligible for or enrolled in no-cost Medi-Cal. Healthy Families covers a variety of health care services, including pregnancy, checkups, vaccinations, and hospital care. The cost of coverage varies based on income category, which depends on family size, household income, and the health plan you select.
Parents, legal guardians, stepparents, caretaker relatives, or foster parents can apply for a child living in their home. Individuals who are 18 years old can apply for themselves, and minors can apply for their children as well. In order to qualify, you must meet certain citizenship and income guidelines, as specified below.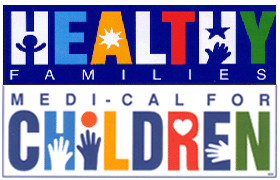 California Healthy Families Eligibility
Up to a child's 19th birthday, they can qualify for Healthy Families coverage if they meet other criteria. They must be a resident of California, a U.S. citizen, U.S. non-citizen national, or eligible qualified immigrant. Click here for a specific definition of eligible qualified immigrant. Children in families who have not had employer-based group coverage in the last three months are eligible. Those who were born to mothers in the Access for Infants and Mothers Program, who are not enrolled in no-cost Medi-Cal or group insurance, will qualify for Healthy Families.
The following income criteria chart displays who is eligible for no-cost Medi-Cal and Healthy Families based on their resources and family size, as of April 2012. These numbers change each year in April, therefore it is important to always be aware of the current list as the program frequently reassesses members.
Income Guidelines
Services
Health Families has many benefits for its members, from routine and major medical services to dental and vision care. Optional benefits are available for certain plans, which include chiropractic care, acupuncture, and biofeedback.
Medical
Physician office and home visits
Physician inpatient/outpatient care
Preventive care: periodic health exams (including well-baby care), family planning, prenatal care, vision and hearing tests, immunizations, STD testing, yearly Pap tests, HIV/AIDS counseling and testing, health education
Prescription medications
Inpatient hospital care: room and board, nursing services, all medically necessary care
Outpatient hospital care: diagnostic, therapeutic, and surgical
Emergencyhealth services
Ambulance services
Family planning: contraceptive coverage, counseling and surgical procedures for sterilization,voluntary termination of pregnancy
Maternity care: prenatal and postnatal care, inpatient and newborn nursery care
Diagnostic Lab and X-ray services
Durable Medical Equipment
Inpatient and outpatient mental health care
Inpatient and outpatientsubstance abuse
Physical, occupational, speech therapy
Home health care
Skilled nursing
Dental
Preventive care: teeth cleanings, topical fluoride every 6 months
Fillings
Sealants
Diagnostic services: X-rays and consultations
Major services: root canals, oral surgery, crowns and bridges, dentures
Orthodontics
Vision
Annual eye exams
Prescription glasses (yearly)
Healthy Families Fees
How much a child will be charge per month will depend on their income category, which can be A, B, or C. Premiums can range between $4 and $24 for each child, with a $72 limit for all children in a family enrolled in the Healthy Families Program. Members of Health Families will also need to provide a small copayment for most services they obtain. Some services are free of charge, such as preventative care. Others can be between $5 and $15 to be paid when the service is received.
No individual copayment will exceed $15 for a child's health services, though the maximum amount could change if ER or inpatient copays increase. In order to save money on premiums, you can pay three months of coverage in advance and get free benefits on the fourth month. Also, by choosing the Community Provider Plan in your area, you can receive care from the best in community providers for a $3 discount per person on monthly premiums.
Plans and Providers
There are many types of health plans available through Healthy Families, each through a private insurer or community health organization to maximize quality in your coverage. Some plans require members to choose a primary care physician to coordinate their care, and referrals are required for specialist services. Many health plans also offer a home delivery pharmacy option. Companies offering plans throughout the state include:
Alameda Alliance for Health
Anthem Blue Cross (HMO and EPO)
Blue Shield (HMO and EPO)
CalOptima
Care 1st Health Plan
CenCal Health
Central California Alliance for Health
Community Health Group (San Diego)
Community Health Plan (Los Angeles)
Contra Costa Health Plan
Health Net (HMO)
Health Plan of San Joaquin
Health Plan of San Mateo
Inland Empire Health Plan
Kaiser Permanente
Kern Family Health Care
L.A. Care Health Plan
Molina Healthcare
Partnership HealthPlan of California
San Francisco Health Plan
Santa Clara Family Health Plan
Ventura County Health Care Plan
For more information regarding medical coverage through Healthy Families, visit the About Health Plans page.
Dental and vision coverage are provided through separate plans. Dental plans are available through Access Dental, Delta Dental, Health Net, Safeguard Dental, Premier Access Dental, and Western Dental. Coverage for eye care is more minimal, with three plans to choose from, including EyeMed Vision Care, Safeguard Vision, and Vision Service Plan.
Resources
Healthy Families Program (applications): 800-880-5305
Healthy Families Program (other questions): 866-848-9166
General program questions: HealthyFamilies@MAXIMUS.com
Application Assistance: 800-880-5305
Mail Applications to:
Healthy Families
P.O. Box 138005
Sacramento, CA 95813-9984